Marketing is important to operate a successful business. Back in the old days, barbers could rely on word of mouth and passing trade to bring in new customers. However, times have changed and barbers can no longer rely on such strategies. Nowadays, barbershops are applying effective marketing strategies to promote themselves. Therefore, you need to keep up or else you will miss out on your potential customers.
It may be assumed that marketing strategies for barbershops can be time-consuming and expensive, but in reality, there are plenty of simple promotional strategies that can help you reach out to new clients without putting in all your time and effort. It is not necessarily hard to find effective marketing ideas for your barbershop, but it can be quite difficult to understand how to make these ideas work for you.
So here we are with some simple yet effective barbershop promotional ideas to give your business the boost it needs. Read on and make your barbershop the best in your locale.
Ideas to Promote Barbershop in Locale
Create a website for your barbershop
Imagine someone gets to know about your barbershop and they want to know more about your business, such as the services you offer and your prices, but when they start looking out for you, they do not find you anywhere on the internet and hence end up finding another barbershop. Sounds bad, no? Thus, if you do not have a website yet, start working on it right now, or there is a good chance you are missing out on your potential clients.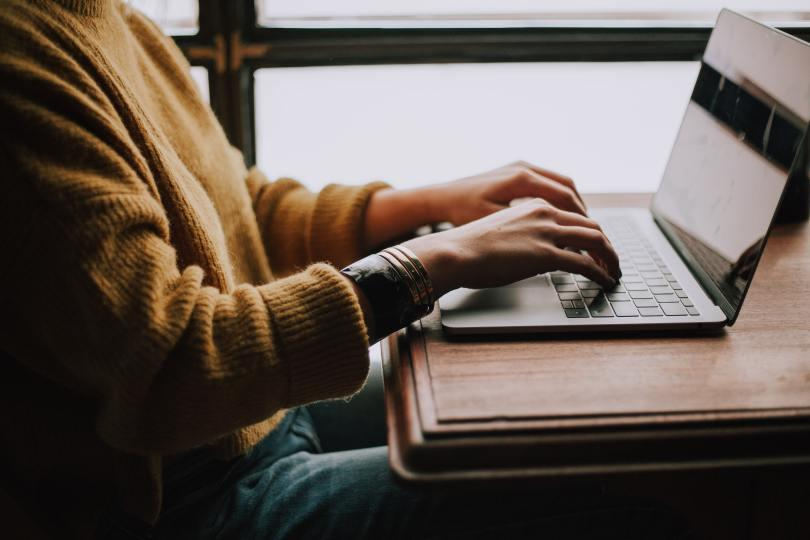 Online bookings
These days, especially after the pandemic, every business needs to have an online presence where people can get in touch with you online. Although barbershops had a long tradition of only walk-ins, the modern restoration of barbershops only retains a few traits of their predecessors. Customers today find it suitable when they have a scheduled appointment. Besides, all your marketing ideas will work better if they link up to your website.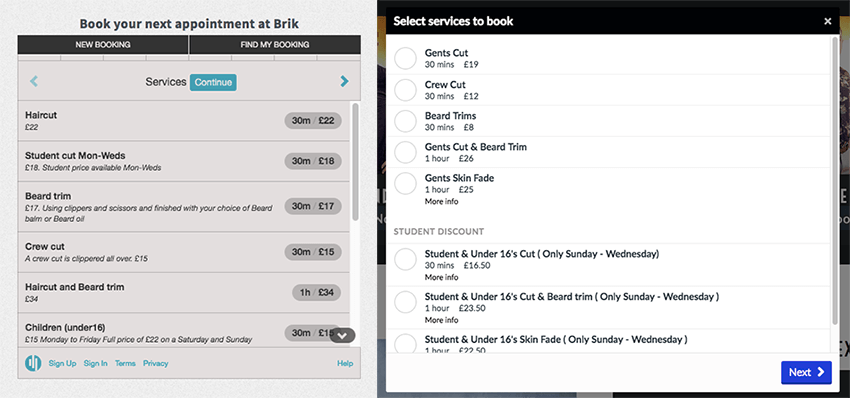 Let your neighborhood know about your shop
Barbershops mainly depend on the neighborhood as they are their actual customers. Back in the day, word of mouth was the best marketing strategy, but that does not work in recent ages. Your business will get left behind if your neighbors are not aware of your shop. Thus, conveying all the relevant information to your neighbors will help your barbershop to flourish.
Flyers
Flyers are usually used to draw attention to a product, service, or event. They are an easy way to let the local public know about your shop. They usually contain a small message of relevant information that can pass on quickly. The best part about flyers is that there is no standard design or format to create them and they can be customized as per your preferences. This allows the business to design the flyers according to their audience and reach them on a more personal level. You can use PosterMyWall to create flyers for your barbershop. It is a flyer maker free of cost with thousands of customizable flyer templates that are easy to work with.
Banners
Banners are one of the most popular marketing materials on the internet consisting of a graphical advertisement within a webpage. They intend to attract the attention of the viewers, so they do not necessarily contain large pieces of information. Banners can help you attract traffic through clicks to the website or generate impact through impressions.
Business hours signs
Communication with your customers is essential for any business. Even though people can contact you via email or phone numbers when they have any queries, there is still a large majority of people who are reluctant to do so. As customers need to be present physically at the shop, people should be aware of the shop timings beforehand to avoid any inconvenience. Business hour signs work the best to serve this concern. They should be maintained timely so that your customers know about your hours of operations. You can use business hours sign templates on PosterMyWall to design free business hour signs. It is an online design tool that allows marketers to use free business hour templates to design creative graphical content.
Search engine and Email marketing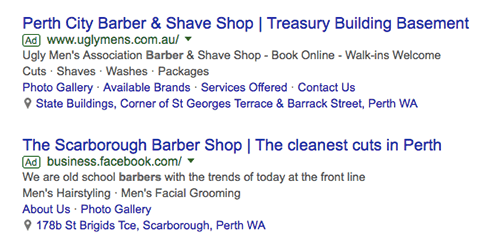 If you are working well on your local SEO and structured data, you are already on your way to being visible in local search results. However, you should not forget about search engine marketing. Money used to appear in search results are funds well spent if it results in more traffic to the website and new clients to your barbershop.
Email marketing just like barbering itself went out of vogue for a bit but is currently in a state of revival with both consumers and businesses. Although email marketing is a very cost-effective method, you should not forget that it only involves marketing to your existing customer base, either current or past. This way of promotion is useful to keep the clients coming back and increase profits.
Get your barbershop on Google Maps
Where do most people search for local services? Google maps. Promoting your shop on google maps is the most influential way to attract nearby clients online. Without a doubt, it is the most powerful barbershop marketing idea, yet very few realize its potential.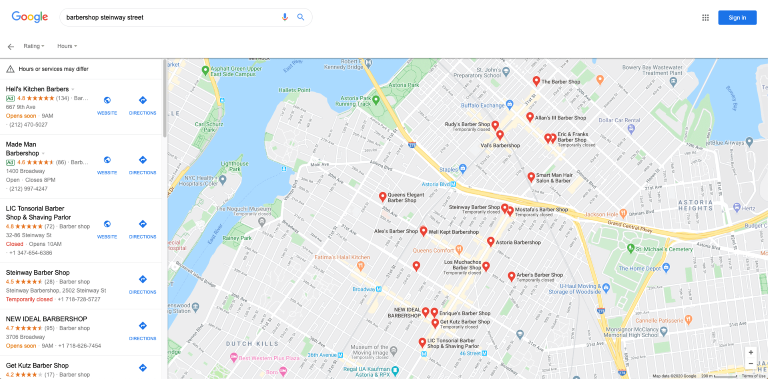 You might think that it is very complicated to get your barbershop on Google maps, but in reality, it is extremely easy. Create a free account on Google My Business and follow a few steps. Once your barbershop is listed on Google maps, make sure to remind your clients to leave a review for your barbershop on Google maps.
Happy customers are the best marketers
The final advice for any consumer-based business is to retain its clients. Neglecting existing clients in search of new ones is a common mistake. Although the pursuit of new customers is healthy for business growth, meeting the needs of your existing ones can be just as important.
Eventually, barbershop promotion requires perseverance to attain results. Many of them lose hope too early because they fail to get the results immediately. Have patience, stick to your plans, and make sure no customer leaves your shop unhappy, as happy customers are the best marketers.